Christmas is just around the corner and it will be New Year's eve before you know it.  Usually by New Year's I want a simple and easy New Year's. However, I still want it to be a nice evening. Sam's Club can help you have a "Luxe for Less" New year's without a lot of fuss. Sam's helps you save time to prepare for the New Year by being a one-stop destination fro all your entertaining needs.
From fresh food items and quaity baking essentials to ready-made appetizers and gourmet-to-go baked goods at a great value, you can have all your entertaining must-haves ready for your New Year's celebration.
The great thing is they also offer a 200% satisfaction guarantee on fresh meats, produce, seafood, and bakery items so there is no need to worry about quality.
I made some easy orange glazed meatballs using Sam's Casa Di Bertacchi® Authentic Italian Style Beef Meatballs. They are a cinch to make.
Sam's has even more great items for your New Year's Eve that are easy and taste-like-homemade delicious.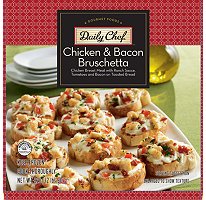 Daily Chef Chicken and Bacon Bruschetta ($9.98)- I used these last year for my New Year's party and they were a hit.
Artisan Fresh Spinach Artichoke Dip ($7.98)- just heat and serve. I like to serve this with tortilla chips.
Cheesecake Factory Hershey's Chocolate Bar Cheesecake ($15.98)- I love being able to have Cheesecake Factory Cheesecake at home. This 12 pre-sliced cheesecake is the perfect chocolate indulgence.
Sam's also has some great items to help with serving at your party too.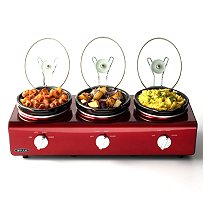 Bella Profesional Oval Triple Slow Cooker with Lid Rests ($39.98) – allow you to serve 3 different dishes simultaneously with individual temperature controls.
Tiered Buffet Server – this easy to store server is the perfect way to display whatever you maybe serving.
Chateau 3 pc. Bakeware Set in Paprika – go from oven to table with this stylish bakeware.
Sam's Club has provided a Modern Cocktail Holiday Mixer Variety Pack for one lucky RMK reader. Just leave a comment about how you get "Luxe for Less". You have until Friday Dec. 28 at midnight (MST) to enter. Winner will be announced at the bottom of this post following the entry deadline.
The winner of this giveaway is:
Terri C: "Coupons are a wonderful way to get some great deals. I also watch for my store brand items to go on sale. I shop at SAMs for myself and for my church. Everything is good from SAMs! And I really like the fact that I have the things I use the most on hand."
Disclosure: I received a gift card and gift pack from Sam's for my post. My opinions are always my own.