Today, I am introducing a new post called Real Mom's Fab Five. For almost 3 years I have posted recipes 6 days a week.  When I first Began in April 2008, I was doing posts 7 days a week.  I soon figured out I needed at least one day off.  Well, it is time again where I am finding I need to simply my life to keep up with all my family demands.  I need a little more balance.
So I have been tossing around what to do.  My husband wanted me to just get rid of a post one day a week entirely.  I asked around and a good friend of mine suggested I not drop that day completely but replace it with something simple.  Several ideas were tossed around until I  found something that felt like the right fit.  I finally settled upon a post that would share with you some of the wonderful things that I find on other blogs, websites, etc.
I frequently get asked by some of you what blogs or websites I suggest to use as additional resources.
So I figured it would be a good fit.  I also do this in a way already through twitter to my "tweeples"  and my facebook fans but not everyone is on twitter or facebook.  So each week I will share my top 5 finds with you.  I'm callin' it Real Mom's Fab Five.  It will also cover a broader topics.  Not everthing will necessarily be food related, but I am sure a big bulk of it will.
It may include cute party decor, a easy gift idea, a free download, or a kitchen tip.  It's just what ever strikes my fancy and as make my way each week.  So this Saturday is the first installment of Real Mom's Fab Five.
First is this cute way to package up some baking supplies to make an adorable cupcake kit from Nichole from Papertrey Ink. It is made with a Valentine's theme but could be changed for any holiday.
Here is a cute decorating idea from Sassy Style Redesign. I have space just like this above my kitchen cabinets and never thought of doing vinyl like this on the wall.
Lee Lou blogs offers a free desktop theme each month for free.  This is the cute theme she had for February and she will be coming out with one soon for March.
Then you have to check out this crazy cookie recipe from Jenny @Picky Palate. I was shocked and amazed with this two ingredient cookie.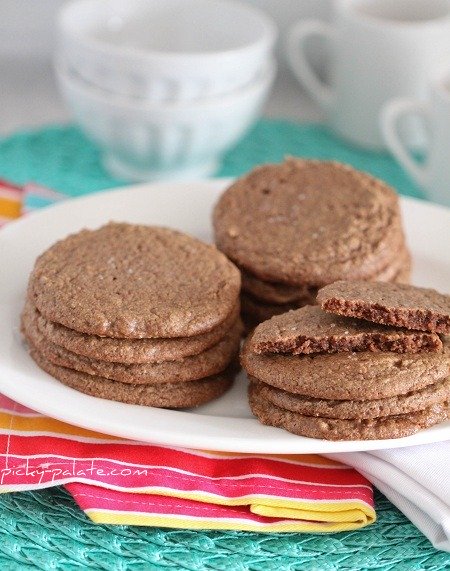 Then I found this cute food jewelry at an esty shop called Inedible Jewelry. So cute. Don't you just love the Cheesecake earrings!