Today's review is for a magazine I found when I was in my local Walgreens called Yum for Kids Food & Fun. The price for the copy I purchased was $5.99. However, I did find you could get a one year (4 issues) subscription for $12.95 through the publisher. When I purchased this I discovered my friend Kristen from Dine and Dish is their food editor.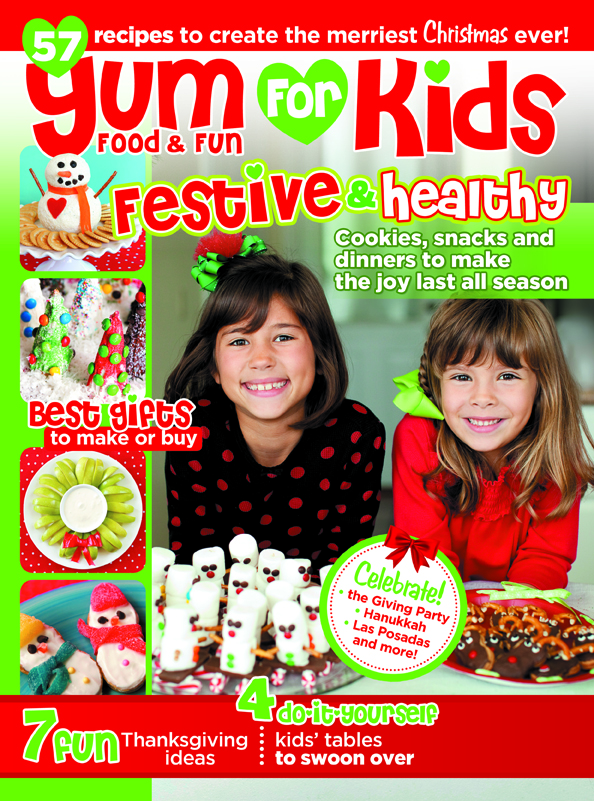 What I liked about this magazine:
The photos – the photos are beautiful and one is included for each recipe. I also love that the photos show kids in them along with parent and kids in the kitchen together.
The layout – The issue I had had recipes laid out by breakfast lunch and dinner. It also a week's worth of dinner recipes along with a shopping list. There is also a page in the front of the magazine that breaks down the recipes into the following categories – Bountiful Breakfasts, Super Lunches, Salads, & Sandwiches, Simple Snacks, Family Dinners, Tasty Treats, Fun Drinks, On the Side, Extras, and Goodies. It also includes themed meals.
The issues – each issue is geared around a season. The issue I purchased was for Spring. It included recipes and ideas for Valentine's St. Patrick's Day, Mardi Gras, and Easter.
Items I am neutral about:
The recipes – The recipes are geared more toward what kids will eat and not so much for them to do the recipes by themselves. However, if you have an older more experienced cook they would probably love it. I would say they would have to be experienced and at least 12 to do these recipes by themselves.
Allergy Friendly – The issue I purchased did include recipes for kids with allergies like gluten-free.
Nutrition info – Some of the recipes included nutrition facts, but most did not.
The downside:
The price – I think the $5.99 price for 1 issue was a bit high for a magazine with 96 pages. However, if you purchase the yearly subscription I found for $12.95 making the cost per issue $3.24 saving 46% off the cover price. When I googled the magazine the other option I found was $14.95 a year so the $12.95 appears to be the best price available.