Cheer is: More time with the family? Festive décor? Planning in advance?  Sam's Club recently announced the results of the 2012 Study on Holiday Cheer. The study set out to understand the state of holiday cheer among American consumers. Plus, discover the routines and inspirations that create cheer during a busy shopping season. The study revealed that while 75 percent of consumers feel that the recent economy has an impact on their holiday cheer. Additionally, 79 percent are looking forward to the 2012 holiday season.
To deliver more cheer to hopeful families this holiday, Sam's Club and SamsClub.com/holiday have launched a host of inspirational holiday solutions. These will assist in for preparing the home, entertaining and gift giving.
To further elevate cheer through the season, Sam's Club has enlisted an all-star squad of Cheer Guides. These national experts in decorating, entertaining and charitable giving. They will inspire members with creative, fun ideas that ease the stress of the holiday season.
Despite the economic impact on cheer, the 2012 Sam's Club Study on Holiday Cheer states that nearly three quarters of American consumers look forward to the holidays, no matter what income level, ethnicity, age or household size.  The overwhelming definition of holiday cheer is family and friends. In fact, 50 percent of American consumers say that dinner with family and friends best defines cheer.  Furthermore, over 35 percent say cheer is defined by lights and decorations. Eight percent define cheer as holiday movies and music.  For even more interesting facts from their study, visit the link provided.
There might be something to the "making a list and checking it twice" mantra. In fact, half of all survey respondents said they are happier during the holidays when they plan ahead. Also, when they find ways to simplify their lives.
To help families prepare for gift shopping, out of town guests and party planning, Sam's Club presents a host of simple programs to inject cheer into the shopping routine:
Holiday Taste of Sam's Club (Nov. 16-18): The annual extravaganza to sample fresh foods, gourmet-to-go desserts. It will also have ready-made appetizers makes the tenth annual Holiday Taste of Sam's Club a cheerful holiday tradition. For three days, members and guests can "try before they buy," plan their holiday menus. They can also learn entertaining shortcuts from "Tastes 'n' Tips" associates.
Click n' Pull®: Sam's Club takes the legwork out of holiday shopping with theSamsClub.com Click n' Pull feature. Members simply submit their orders online before 5 p.m. Then a Sam's Club associate will have the items gathered and ready for pick up the next day. (Not available Nov. 23)
Black Friday Savings Event (Nov. 23): Members will cheer for savings as they indulge in "mistletoe and a cup of joe" at Sam's Club on the biggest shopping day of the year. While supplies last, Sam's Club treats members to complimentary Starbucks Holiday Blend coffee and Artisan Fresh pastries as they shop for special savings on treasured gifts reserved for members only.
Cybernate: Sam's Club members can stay cozy and "cybernate" while shopping. They can do this anywhere at any time on SamsClub.com—and via the Sam's Club iPad® app and mobile app. They can have exclusive savings on unique gifts ranging from big screen HDTVs and electronics to stunning diamond jewelry and toys for kids. Tap the app to make shopping lists, check Instant Savings, view recipes, and upload photos directly to a local Sam's Club Photo Center.
24/7 Free Tech Support: Thanks to the qualified team of Sam's Club Tech Experts, families won't stress over tech set-up and maintenance. When members dial 1-877-758-4346, they'll receive free technical assistance. They can get it for any television, home theater, digital music player, camera/camcorder or computer purchased at Sam's Club.
Special Deliveries from Sam's Club Giving (Dec.10-15): 85 percent of American consumers prefer to give gifts than to receive them. In December, the Sam's Club Giving program celebrates the cheer discovered from giving back to our communities.
Sam's Club also wants to enhance the holiday cheer this season for one lucky RMK reader with a
Bella Triple Slow Cooker
. This must-have kitchen essential is great for cooking and serving 3 different dishes simultaneously with individual temperature controls. Who wouldn't love to have that for their holiday entertaining?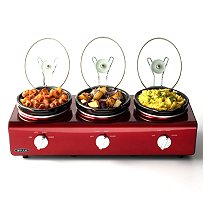 To enter, just leave a comment telling me what cheer is to you is this holiday season. You have until Friday November 9th at midnight (MST) to enter.