I have a collection again of winners to announce for recent giveaways.  So here we go.
The winner of the Teflon back-to-school kit including a 5-quart Jumbo Cooker with Teflon® nonstick coating and the Breakfasts and Brunches cookbook signed by the author is:
Barb who said: "my go to meal is pasta with sauce."
The winner of the Taste of Home copies of Best Holiday Recipes and Best-Loved Cookies and Candies is:
Terri who said: "Cookies!"
The winner of The Sweet Book of Candy Making is:
Jen G who said: "Aw, man! I'm allergic to gluten and soy and have to make so many things from scratch, I would love this cookbook! Everything looks wonderful, but I bet those salted caramels on the cover will be divine!"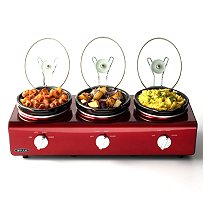 Last is the winner of the from Sam's Club.  The winner of that is:
erin who said: "cheer for me is the happy i feel from spending some much time surrounded by family and friends."
Congrats to all of you and watch for an email on how to claim your prize!